Civil War Reconstruction House-Plan Book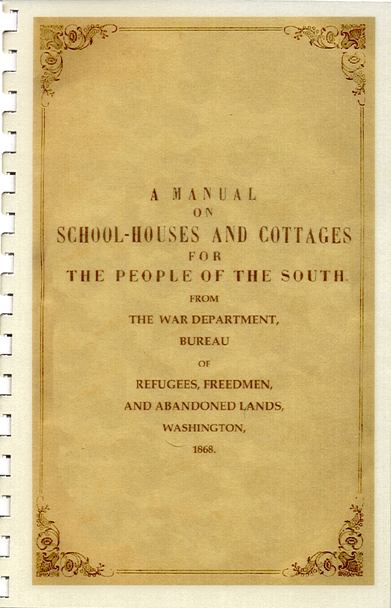 A MANUAL
ON
SCHOOL-HOUSES AND COTTAGES
FOR
THE PEOPLE OF THE SOUTH
FROM
THE WAR DEPARTMENT,
BUREAU
OF
REFUGEES, FREEDMEN,
AND ABANDONED LANDS,
WASHINGTON,
1868.
PREPARED BY
C. THURSTON CHASE,
SUPERINTENDENT OF EDUCATION, FLORIDA
Originally published in 1868 in Washington by the Government Printing Office.
New Printing 2003, by Merrymeeting Archives.
83 pages, paperback, 5½"x8½" spiral-bound book;
illustrated with 74 figures, including school and cottage floor plans.
Contents, in index form:
Air, Aisles, Ante-rooms, Ash-house, Assembly hall or chapel, Balloon frame, Batten, Blackboards, Blinds, Box frame, Ceilings, Chapel, Common schools, Cottages: educational influence, policy of the American government, site for a dwelling, log house in the clearing, saddle-back block-house, laborer's cottage, neat cottage, snug cottage, comfortable cottage, gardener's cottage, mechanic's house, second story, full height, papering and furnishing, color of cottages and school-houses, concrete or gravel walls, gables, verge boards, hoods, &c., Curtains, Desks and seats, Drainage, Fan-lights, Fences, Fire-place, Floors, Furniture, Rustic gates, Grounds, Hall wardrobes, Hedges, Homes for plain people, Hoods for doors and windows, Ink wells, Light, Logs, Log school-house, Outbuildings, Piazza, Piers, Porch, Privies, Recitation room, Roofs, Rustic work, Sash, School-houses: construction of, common defects to avoid, improvements, requirements of better buildings, advantage of one-story buildings, how to plan, plans of one-story buildings to accomodate 35, 42, 48, 56, and 64 pupils, plain country house, school-house with basement, village school-house for 128 pupils, school-house with chapel, building for Union or Graded school 224 pupils, building for high school 300 pupils, building for Normal school 300 pupils, building for Normal school 352 pupils, School-rooms, Stoves, Teacher's room, Trees, Venetian blinds, Ventilation, Walks, Warming, Windows, Wood-house.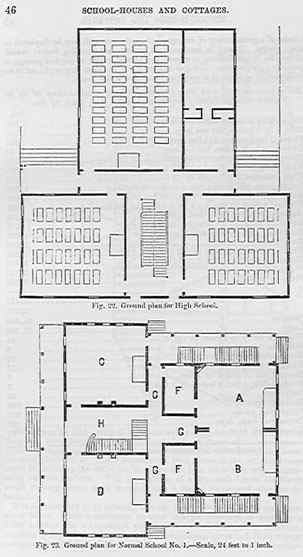 Sold Out
Thank you for your business!