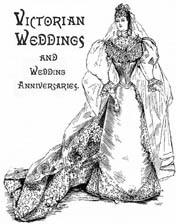 Victorian Weddings and Wedding Anniversaries, 1898
eBook (Adobe Reader)
DOWNLOAD: PDF
$12.00

Victorian Weddings: Wedding Etiquette; Engagements, Engagement Rings and Engagement Announcements; The Wedding-Day; By Whom Are The Expenses of a Wedding Assumed? Invitations; The Proper Attire for Weddings; The Bridal Bouquet; Floral Decorations; Church Weddings; House Weddings; Calls, Announcement Cards, Etc. Wedding Receptions; Wedding Breakfasts; Bride's Cake; Wedding Cake; Old-Time Customs; Congratulations; The Wedding Tour; A Springtime Wedding; Giving and Acknowledging Wedding Presents; The Art of Giving, and What to Give; The Weddings of Widows; Duties of the Bride and Groom's Attendants: The Maid of Honor, The Best Man, The Bridesmaids, and the Ushers; Pages; The Groom's Dinner; The Marriage Certificate; Miscellaneous Suggestions. Victorian Wedding Anniversaries: A Cotton Wedding; A Paper Wedding; A Leather Wedding; A Wooden Wedding; A Woolen Wedding; A Tin Wedding; A Silk and Linen Wedding; A Crystal Wedding; A China Wedding; A Silver Wedding; A Pearl Wedding; A Ruby Wedding; A Golden Wedding; A Diamond Wedding. Materials and Trimmings for Wedding and Bridesmaids' Gowns; Material and Trimmings for the General Trousseau. 2003 eBook from Butterick's 1894 book Weddings and Wedding Anniversaries, 76 e-pages, printable, illustrated. 8.57MB. Reprinted by Merrymeeting Archives LLC.Description.


---
Victorian Interior Design Collection
---
Interior Design 1869-1879
Download Complete PDF
$9.95

The Victorian Home ...in the words of the Victorians more info...
Bonus: The American Woman's Home: The Beechers' Christian Home with Plans from 1869



---
Art Nouveau and Mission Interior Detail Collection
---
Wallpaper
Lighting
Copper Work
DOWNLOAD: 4 PDF
$9.95


eBook 1: Wallpapers and Wallcoverings, 1903 A Practical Handbook for Decorators, Paperhangers, Architects, Builders, and House Owners. 175-epages.
eBook 2: Art-Craft Lamps, 1911 Lamp construction and how-to build Arts & Crafts Lamps. Mission-style, 88 e-pages, 6.54MB.
eBook 3: Lamps and Shades in Metal and Art-Glass, 1911 Lamp and Shade construction and how-to build Arts & Crafts Lamps. Mission-style, 124-page, 8.36MB.
eBook 4: Copper Work, 1909 How to execute designs in copper; art nouveau styles. 123 e-pages, 9.78MB.

---
Victorian New Year Celebration
---
Victorian New Year's Day
Four Menus with Recipes
DOWNLOAD: PDF
$4.99

Four Menus with Recipes of New Years Celebrating, one of the more celebrated Victorian Holidays. The menus range from economical to gourmet to a restaurant-cooked dinner. eBook PDF, 2005, Merrymeeting Archives LLC. Description.

---
1835-1924
---
High Tea & Tea for Two
DOWNLOAD: PDF
$4.95

Anthology of Tea: High Tea, Wedding Tea, Home Tea, 5 o'Clock Tea &c. and some entertaining history and social portrayals; collected tea magazine articles and book chapters from 1835 to 1924.. 77 e-pages, © 1999-2007, Merrymeeting Archives LLC. more info...

---
WWI Era Cookware Catalog
---
Super-maid Cookware Catalog, circa 1915
DOWNLOAD: PDF
$3.95

5.03MB, 22 e-pgs., illustrated. Super-Maid Cookware Catalog, Your Work Room, Equipped for Better Cooking with Less Work, circa 1915.