ALL-AMERICAN
FARMHOUSE
PLANS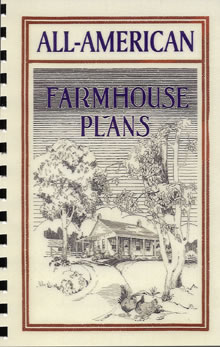 By WALLACE ASHBY, Chief, Division of Structures, Bureau of Agricultural Engineering.
Acknowledgment is made of the extended collaboration of Louise Stanley, Chief, Bureau of Home Economics, in selecting and reviewing the plans presented herein; and of the helpful assistance of W. H. Nash, architect, Bureau of Agricultural Engineering, in the preparation of both the manuscript and illustrations for publication. Mary Rokahr, senior home management specialist, Extension Service, and Eloise Davison, director of domestic electric service program, Electric Home and Farm Authority, made valuable suggestions regarding arrangement of kitchens and other equipment. Helpful comments and suggestions have been received from many other persons. Many of the perspective sketches illustrating the house plans were drawn by C. W. Mead, Bureau of Agricultural Engineering.
Note: There are economical farmhouses represented, yet no barns or out-building plans in this title. Originally published in 1935 As Farmers' Bulletin Number 1738 by the U.S. Department of Agriculture. New Printing 2001, by Merrymeeting Archives, LLC. Copyright claimed only in "All-American" addition to title, minor rearrangement of page sequence, and coloration and minor redesign of the cover page, otherwise exclusive of entire book.
70 pages, spiral-bound, 5½"x8½", Illustrated.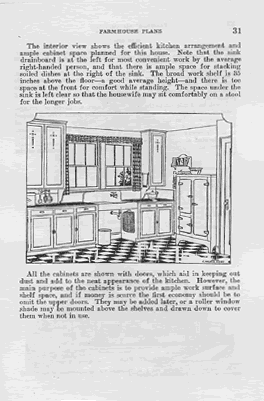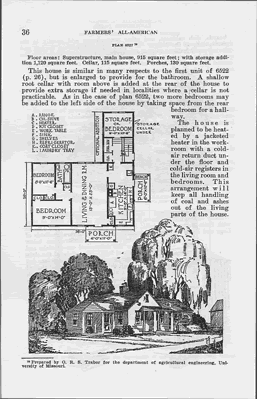 Book has influence of the parallel lines of Prairie-style and America's Regionalist Art Period; all are modest homes. 6 House Interior Illustrations, including 3 Kitchen Designs, 40 Home Plans and 54 House Exterior Illustrations.