Historic Houses
Stories and Photos from Our Visitors
Historic Houses 1 2 3
Post a Message
---
Hershey, Pennsylvania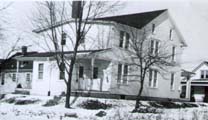 "...home built sometime in the early 1930's or late 1920's. I am unsure of the style. Is located in Hershey Pennsylvania, it is a two story duplex, approx 1800 sf per side a full basement and attic. Could you tell me something about the architecture and if you could provide me with a pattern book for this style so I can get some idea of trim styles and windows, doors and other items available at the time so I may restore it properly."
Merrymeeting: We are not familiar with houses in Hershey, but, because of the large late Victorian-styled windows, this house appears to have been built before the 1920s. Discovering when the house was built, is the first step in determining how to restore the house. Follow the deeds back to its origins (at the local Registry of Deeds office).
---
Wisconsin
"We live in rural Wisconsin and our city was founded during the lumbering and rail road era. The oldest info about our home was found at the Registrar of Deeds office and a lumber company had bought and sold it. It has a long history of ownership , especially after 1940. We are aware of the prominent couple of the community that lived in this home between 1920-1940. We would like to see what the floor plan originally looked like and some ideas of how to dress this fine old lady (interior and exterior)."
Merrymeeting: There may be similar bungalows in your area. You may find examples of original windows, siding, front entrance, and garage door treatments, and maybe historic landscaping. Talk to the owners of similar bungalows in the area also. Someone may have old pictures of their house with original treatment. Perhaps the descendants of the couple who owned the house between 1920-40 have old photographs of the house (sometimes in the background of family pictures). Also, the assessment records for the house often have an older photograph included. You can learn a lot by studying the details of old photographs.
The book, Bungalows, Camps and Mountain Houses has many examples of bungalows from the early 1900s. Look closely at the window treatments (size, number of panes on top and bottom), front column proportions, etc. for additional ideas for the finishing touches for your home.
---
1900s Farmhouse Plans
"My husband and I are looking to build an early 1900's farm house style home that can blend the integrity of that particular time period and accomodate the modern conveniences of a rather large modern family. Is this possible? We don't know where to start... do you have any suggestions?"
Merrymeeting: In the House Plan Book Index there are a number of books under the heading of "Farmhouse Plans" and "Barn Plans." Selecting the links, we saw that only the book, "Victorian Houses" had a section on houses from the early 1900s. We happen to know that there are some farmhouse style houses in that section. But, in keeping with the spirit of the style house you want, I believe that also the two books "Cottage Houses" from 1884, and "Hobbs's Architecture" from 1873, have house designs that would be suitable. Once you find a design that you like (or elements of design from a number of houses), you can take these pictures and plans to an architect. Your architect can adjust the inside layout to accomodate needs of your family.
---
Purchasing an Original Victorian
"I want to buy my first home soon, and I would like to purchase a Victorian home. What are the drawbacks to these beautiful places? There was one in my town selling for $105,000...and it's HUGE!! Is this a good price? Any info you can give would be appreciated."
Merrymeeting: The price of the house depends on the location and the condition of the house, and perhaps other technicalities such a clear title, future plans for the area, etc. Ask your local real estate agent, and compare it to similar houses in the area. If the house is in a good location, and you are given the go-ahead by a professional house inspector, the home may be worth investing in. Ask your house inspector what would be needed for repairs and maintenance, and then decide if that is something you would like to manage.
---
"What I am looking to build is a mahogany study with the beams across the ceiling, bookcases and more windows. Any help would be appreciated."
---
"I just looked at your site (which is great) and was very much surprised to see the hallway of the 1860's house because it looks just like we think ours originally looked. We are not sure when our house was build (1900-1930?) but there seems to have been alot of really bad remodeling. Do you have any ideas where we could find the original houseplans? It should be a standard plan since neither the house nor the neighborhood are fancy."

Books that may be helpful in researching homes from 1920s to 1930s:


All-American Farmhouse Plans (modest homes)
Low Cost Suburban Houses (1920)
---
"I am looking for a farm house plan to build. I would like the house to have several gables going in many directions with a hugh room upstairs being just one big room."
Merrymeeting: Here is a list of books that have Victorian houses, some with many gables
Palliser's Model Homes. (lots of gables)
Victorian Houses (diversity)
The House: A Pocket Manual of Rural Architecture
Woodward's Country Homes
Woodward's Rural Art
Atwood's Country and Suburban Houses
Village and Farm Cottages
---
"Redecorating a farm house built in the late 1800's, that was purchased from Sears and Roebuck. Looking for best place to find info on decorating style used in that time frame. Will be using paint and paper on original plastered walls, keeping 11 foot ceilings, and would like to find best way to possibly strip several layers of paint from wonderful woodwork. Home has beech and oak wood throughout and most floors are hardwood, some covered with wall to wall carpeting. We want to do the work ourselves, and are on tight budget but would like to find more info on decorating styles, colors used on interior, window coverings etc. of that timeframe. Home has been occupied by family since construction other than a brief time when it was used as a rental. Has been recently sided white with new windows and black shutters being added. Please give any advice or suggestions on where to find this info. We are excited and anxious to start. Thank you!"
---
Registry of Deeds
Do you know where I could start researching my Victorian Home in Ocean County in the town of Island Heights, NJ? I already tried the library, the town hall & records and even the county but no one seems to know anything about the original owners or even date my house was built.
Merrymeeting: We often advise people to research the date of their house by looking for the house records at your local Registry of Deeds. (See above letter from Wisconsin -- the owners found that their house was first owned by a lumber company by following records backwards at the Registry of Deeds). This way you will discover not only the history of your house, but also the year the house was built. You may do this research yourself, or pay a researcher to do it for you:
First look at the deed to your house. It will have reference book and page numbers of the previous owners deeds.
With these numbers, go to the Registry of Deeds in your county, and look up the book and page number that was referenced. This will be the previous owners deed.
On that deed it will reference the book and page number of the previous owners, again. Look up that book and page number, repeating this process until you find the original deed where the property had no building upon it. You now have found the date your house was built.
---